Nobivac Kennel Cough (KC)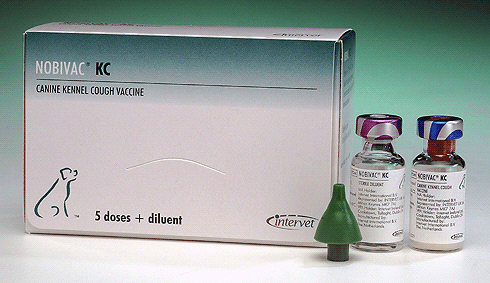 Bordetella Bronchiseptica and Canine Parainfluenza are the most common bacterial and viral agents associated with the disease. Nobivac KC is a low volume dose (0.4ml), easy to administer, intranasal vaccine which acts against both the key causative agents of infectious Tracheobronchitis and provides protection within 72 hours and lasts for at least 12 months. It can be used in puppies as young as three weeks and in pregnant dogs.
Vaccination against infectious tracheobronchitis (kennel cough) is recommended if dogs go into a high risk situation such as a boarding kennel. All dogs should be protected against the unpleasant effects of this whooping cough-like disease. It can be spread whenever dogs get together, and a single dog can cause an outbreak of infection. MSD Animal Health recommends that if possible dogs are vaccinated at least two weeks before entering the kennels.

Nobivac KC is a live freeze-dried vaccine with accompanying diluent. Each 0.4ml dose contains 108.0 cfu of Bordetella bronchiseptica strain B-C2 and at least 103.0 TCID50 of canine parainfluenza virus strain Cornell.
Packaging Quantities
Cartons of 5 or 25 single dose vials with diluent.