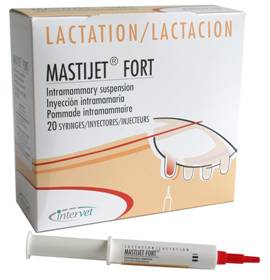 Mastijet Fort is an intramammary injector for use in lactating cattle. The combination of antibiotics used in Mastijet Fort ensures a broad spectrum of activity covering all the commonly occurring mastitis-causing bacteria. The ingredient Prednisolone decreases the inflammatory reactions and promotes a decrease of the somatic cell count and a rapid return to milk production.
Each injector of 8 gram contains:
Tetracycline 200 mg
Neomycin 250 mg
Bacitracin 2000 IU
Prednisolone 10 mg
Indications
Treatment of clinical mastitis caused by micro-organisms sensitive to the active ingredients.
Dosage
One injector per infected quarter every 12 hours, with a maximum of four treatments.Packaging QuantitiesAvailable in packs of 20 x 8gm tubes