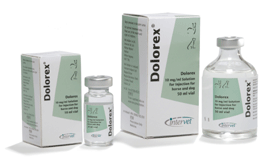 Dolorex is an aqueous, colourless solution and is intended for use where short (horse and dog) and short to medium (cat) duration analgesia is required. Each ml contains Butorphanol 10 mg (equivalent to Butorphanol Tartrate 14.6 mg) and Benzethonium Chloride 0.1 mg.
Packaging Quantities
Carton containing a 10 or 50 ml glass vial. 
Not all pack sizes may be marketed.