A One Health Approach to Vector Borne Diseases Virtual Event
Explore the relevance of One Health to the important health issue of vector-borne diseases.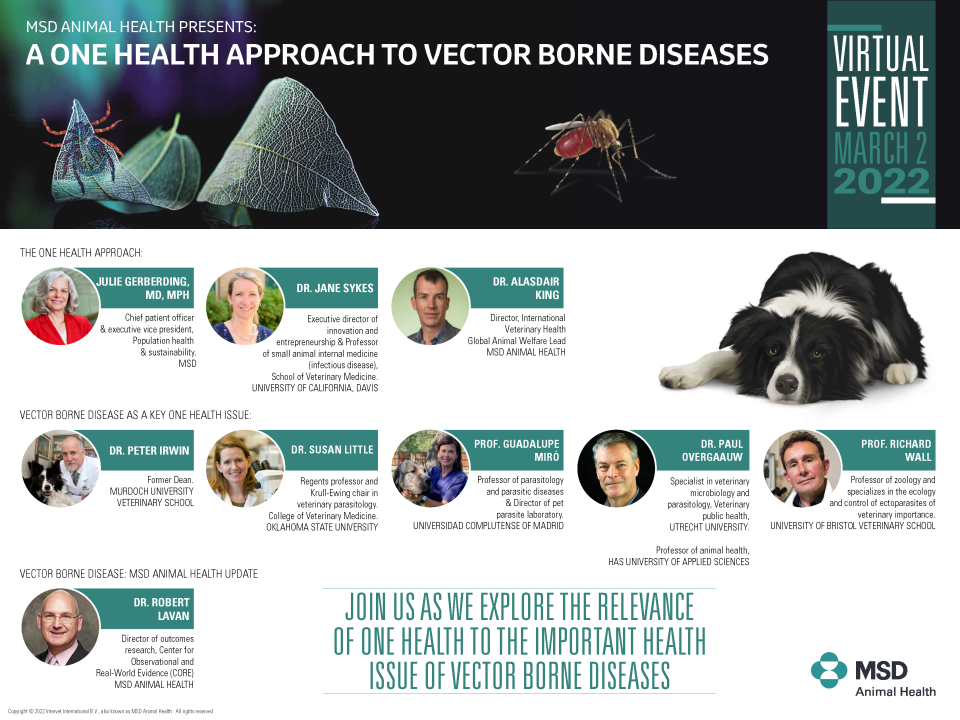 MSD Animal Health is excited to announce their One Health virtual event on Wednesday, March 2, 2022.

One Health is a collaborative, multisectoral, and multi-disciplinary approach—working at the local,
regional, national, and global levels—with the goal of achieving optimal health outcomes for all. One
Health recognizes the interconnection between the health of people, animals, plants and their shared
environment.

As one of the only biopharmaceutical companies focused on both human and animal health, and in
recognition of the connection between the health of people and animals and our shared environment,
MSD Animal Health applies a One Health approach to their mission to save and improve lives.

MSD Animal Health has gathered experts from the fields of public health, veterinary medicine, and
parasitology, who will share their perspectives on vector-borne diseases and how to manage these
threats with the goal of improving the health of both animals and people.

This one-day virtual event will have three sessions including an initial presentation on One Health with
Dr. Julie Gerberding and Dr. Jane Sykes moderated by Dr. Alasdair King. Their presentation will be
followed by a panel discussion featuring the following prominent experts: Dr. Peter Irwin,
Dr. Susan Little, Prof. Guadalupe Miró, Dr. Paul Overgaauw and Prof. Richard Wall.

In the third session, Dr. Robert Lavan will present new data and insights relevant to pet owner
compliance with current parasite treatment recommendations.

MSD Animal Health is actively collaborating with human, animal and environmental health stakeholders
to tackle major population health challenges, including antimicrobial resistance, zoonotic diseases, vector-borne diseases, ensuring a safe and sustainable food supply as well as sustainable practices which protect
our environment.

This virtual event is RACE CE approved (2.5 hours) and is open to all veterinary professionals. You can
register for the event now: Register here.