Visionary leadership is inspired by the people and passion of your organization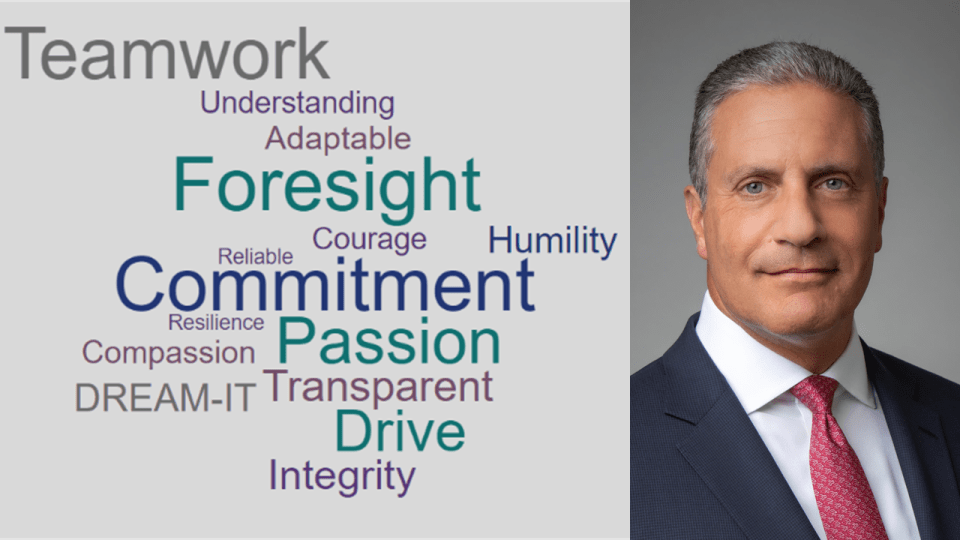 MSD Animal Health President Rick DeLuca received Animal Pharm's "Visionary CEO" award for leading our animal health company and driving the pioneering use of technology, monitoring and intelligence to advance animal health care and well-being. With a focus on operational excellence, people development and a clear vision for the future, Rick's leadership is not only reshaping our company, but also redesigning the animal health industry.
Building the Foundation of Strong Leadership
Q: Congratulations on being recognized by Animal Pharm as Visionary CEO for 2020. What does "being visionary" mean to you, and why is it important to our business?
A: Having the company recognized with this award underscores the hard work and passion of our people. Additionally, this honor validates our culture, our customer focus and the efforts of our day-to-day work to exceed our customers' expectations. We have passionate, well-trained, talented people, and that is our irreplaceable product.
We've been on a journey building Animal Health these last 10 years, progressing at record-pace. I credit that to our people, and our passion that makes us more relevant and valuable to our customers, positioning us to be the best animal health company for a long time to come.
Q: Here are some words Senior Leaders and global employees used to describe your leadership. What qualities do you believe make someone a strong leader?
A: I agree that passion, humility and foresight enable you to motivate your organization. Strong leaders work hard to get to know the organization to create energy and passion so that they can drive the team forward to reach the end goal.
That said, Driven. Energetic. Grounded. Humble. Desire to learn. Willingness to listen. Approachable. These are the qualities that make a great leader. You can teach the rest.
Q: What experiences in your life have taught you the most about being a strong leader?
A: While growing up, I played on many sports teams and learned what being a strong leader means from my coaches and teammates. People become stronger through learning and life lessons. I always try to watch, observe, learn and, when possible, gain hands-on, practical experience. I also firmly believe in learning from our mistakes. I encourage everyone to expand their horizons and seek to learn more. Look for mentors — people who can teach you what you don't already know. This applies to everyone across all levels; I also continue to look for opportunities to learn more, including being more nimble in the digital space.
Bringing Our Business and Vision into Focus
Q: You have made significant strategic investments in our business these last five years. What was your thinking behind those investments? What will be critical for us to remain a competitive industry leader?
Our company initially operated as Intervet and Schering-Plough before forming Merck Animal Health. As we built the business, we did a gap analysis to develop the new company in a smart way, both geographically and through capabilities. We established the global headquarters for Animal Health in New Jersey (located about 25 miles/40km from New York City) to maximize access to overall resources of Merck, which is also based here. Subsequently, we made significant investments in R&D, Manufacturing, Business Development and Learning and Development for our people over the last five years that are now driving our company as an industry leader.
Q: Can you describe our new business model? How will shifting our focus to the animal lead to more innovation and growth for our business?
A: We shifted our business model by focusing on the animal instead of on the customer like we've done in the past. The animal health business is an ecosystem centered on the animal, surrounded by those stakeholders who play a role in taking care of that animal — the vet, the farmer or producer, the owner, the pet food company, the wholesaler and the pharmaceutical company. In today's industry, a company or stakeholder chooses how much of that ecosystem it wants to retain. Our company is striving to 'own' more of that animal health ecosystem than ever before by evolving from being a seller of biopharma animal health products to a full-service provider of products and solutions to our customers.
We are increasing our animal health monitoring and data capabilities. We can better monitor every activity of farm and ranch animals and provide insights about their health and well-being for our customers. In doing this, we provide better animal health care, save our customers time and money and become a provider of full-service solutions for the animals.
Q: How can technology have the greatest impact on improving the health and welfare of animals?
A: One of our key priorities is getting customers and stakeholders to adopt our animal health intelligence technology and solutions. More monitoring leads to more efficient and effective identification of sick animals, which enables precision medicine and improved treatment, all of which benefit the health and welfare of the animals.
Second, technology allow us to provide better transparency about the health and welfare of the animals that produce the world's food. People want to understand where their food comes from and how their food is produced. With our technology, we are able to trace the protein in food from farm to the table, offering unique insights to our customers who can then inform and reassure their customers about the safety of their food.